Against my better judgement, we named our chickens. It was hard to not give them names when we got to know their personalities. And all the drama of them trying to establish a pecking order was better than watching a made-for-tv-mini-series.
Since we are huge Harry Potter fans, the rooster was dubbed Ronald (Harry was too obvious). Ron the Rooster, the smallest of our flock, was, unfortunately, at the very bottom of the pecking order when we brought them home. He didn't know it. Often we would hear from the coop, "CACKLE,CACKLE,CACKLE!" Out would shoot Ron at top speed with some girl close on this tail! It happened all the time. Going in to roost, Ron wanted to roost on the highest rung. So, he would climb on top of the hens already up there, then down he would come in a flurry of feathers. I have to say he is persistent though. By morning he would be on the top roost. After all these months, he has worked his way up to number two. He's still working on being the top boss.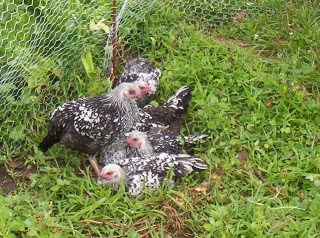 We have one very beautiful girl who is almost all white that we named TAPS…white/ghost/ghost hunters… Shofar is the watch-chicken, the first to sound the alarm, but she is very friendly and likes to peck at my toenail polish. Sir Hillary Edmund is named after Sir Edmund Hillary, since she is the adventurous one who often goes off by herself. She is our top hen. Jezabel the big, golden bully was shooting for top hen. Though number two, she still enjoys putting Ron in his place. Penny, as in Henny Penny, is the littlest golden and just a little dingy and scatter-brained. She is always running around in a tizzy, but she is my favorite. We also have Barbara Fluffybutt, Sparkle, and Wicket. Of course, my step-daughter named one chicken Spot! I'm just glad we don't have a Sponge Bob or Barbie in the bunch.
We did make a deal with the kids when we named the chickens. They wouldn't complain if "someone" ended up on the dinner table, and we promised to not tell them "who" was in the pot. But after several mornings of waking them up at 5 am to help with chickens, and a couple of barefoot-meets-chicken poo incidents, the novelty has worn off for the kids. They are happy to keep the pig as a pet and the chickens as food producers. I still enjoy the antics of the coop and tune in regularly in the evenings, since my chickens are more interesting than anything on tv.