by Rebecca Nickols
Photos by author
The Master Gardener chapter that I am a member of is doing a series of gardening classes this spring and the speakers bureau asked if I would do a PowerPoint presentation on chickens … Of course I accepted! What a great opportunity to spread the news on how easy and enjoyable it is to have a flock of backyard chickens! As this is a gardening series and I'm more of a gardener than a farmer, I thought I would not only share the whys and hows of basic chicken keeping, but also how a gardener can benefit from having a few hens, as well as strategies to protect your garden from the ever hungry foraging birds …
Over the next couple of months, I thought I'd share my presentation. Here's the basic outline:
Gardening with Chickens


Why Chickens?
Eggs
Self-Sufficiency and Sustainable Living
Free fertilizer
Entertainment-Easy-Enjoyable-Rewarding
The Set Up
Coop-Run
Chicks
Heritage Chickens
Ordinance Requirements
Gardening with Chickens
Advantages
Disadvantages
Solutions
Conclusion
Resources: online, books, local sites
Why Chickens?
Eggs
(of course!): They supply you with beautiful, fresh eggs daily. Great tasting and proven to be more nutritious than store bought. According to research conducted by
Mother Earth News
, chickens allowed to roam freely and eat grass lay eggs that are higher in Omega-3 fatty acids and Vitamin E and at the same time lower in cholesterol than store-bought eggs.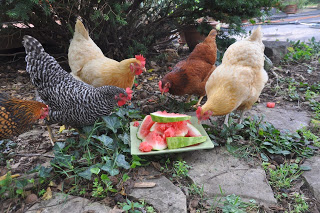 Your leftovers and surplus vegetables will never go in the trash again (reduces waste).
They provide you with an excellent fertilizer base (world's best)…
One simple step to make you closer to self-sufficiency and sustainable living: Your leftovers (and garden extras) are fed to the chickens; their "fertilizer" is added into the compost bin (along with egg shells and coop bedding); this compost is worked into the garden soil; crops are planted and harvested, then the cycle starts over …
Grow your own food plus less waste and reliance–that's a good feeling!…
They reduce insect numbers (chemical-free bug and weed control)!
Easy and inexpensive (when compared to most other pets) and as pets go they're fun, friendly and they'll provide you with endless live entertainment! You'll soon learn that each chicken has their own unique behaviors and attitudes. Some will come when you call them and will want to be by your side at all times, while another member of the flock will be scared of its shadow and is sure the sky is falling! If you're not familiar with backyard chickens, they're not the commercialized chicken that many people think of … These are the chickens our grandparents (or great-grandparents) had, they're intelligent, beautiful birds with gorgeous feather patterns and colors. Their antics and unique personalities are endearing, and if you're not careful, they'll become less like a farm animal and more of a pet. A dog might be a man's best friend, but a chicken is definitely a gardener's friend, companion and ally!
In two weeks, I'll cover the next topic in my outline:
The Set Up
To see what else is happening on our Southwest Missouri property, visit …the garden-roof coop
.