Today we're traveling to Fresno, California to visit with Donna McGlasson, proud owner of Coop de Clucks Chalet!
Donna raises her 3 chickens, 2 Rhode Island Reds and a Barred Rock for organic eggs.
Coop de Chalet resides in the heart of suburbia, but it's unique shape and great use of space makes it a wonderful home for any small flock. The compact design would nestle nicely in any backyard, no matter the size.
The "A" frame construction was the inspiration for the name of the Coop de Clucks and no doubt, with it's peaked roof and colorful artwork over the white exterior, it does resemble a traditional Swiss Chalet…chicken style!
(Donna's husband was rooting for the name "No Dude Brood", but the Chalet name won by a hair.)
Dimensions
"The floor dimensions are 6×4. The coop is in the upper level which houses two bucket nesting boxes on one side and the chicken's nightly sleeping perch with a poop board underneath."
"The door provides safety at night and lowers to a ramp for the lower floor run during the day.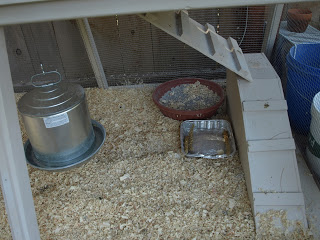 The girls also have a play pen that I move around in the backyard grass for them to scratch and bug hunt."
5 Things She Loves
1. The A frame design is perfect for a small flock.
2. The removable poop boards/tray with PDZ (an odor eliminator) and DE to keep the upper coop clean.
3. The egg door and vent doors we built.
4. The security of the coop to keep our girls safe.
5.The three girls that live in it! Mabel, Pearl & Mildred!
2 Things She Would Have Changed
"I'd add a storage spot on one end for all the cleaning paraphernalia and storage bins. I'd get more chickens!"
Something Unique about Coop de Clucks Chalet 
When Donna was asked what was something unique that she loved about her coop she answered, "The poop boards for ease of cleaning."
Related Products