Do you remember the story of our "Jimmy" chicken?
A couple of springs ago, we had a Buff Orpington hen who wanted to be a mother.  She hoarded eggs, puffed and hissed, feathered her nest—but to no avail, because we had no rooster. We tried all the tricks we knew to break her broodiness, and finally in desperation we called Farmer Jim across the road (who DOES have a rooster—several, in fact), and begged three fertilized eggs.
Three weeks later, one egg hatched.  A fluffy black chick peeked out from behind his mom's blonde feathered back. We named the chick Jimmy.
Now, there are plenty of reasons for adopting a chick –feathered, furry or human.  I know from personal experience that an adopted grandchild is just as much our family as all the other grandchildren– I forget most of the time that she isn't biologically related.  Jimmy's mother was the same –her chick was HERS.  In fact, Jimmy's mother coddled her only chick to the extent that we never were able to pick the chick up—Jimmy "peeped" until he was much too big to be peeping, and slept in the same next box under his mother's wing even after he was bigger than his mother.
Jimmy grew and grew.  When he was too big to sleep in the nest box with his mother, they graduated to side by side on a roost.  His comb grew, a little.  His little comb turned bright red.  In the fall of that year, Jimmy began laying eggs.
Two years later, Jimmy has been through a molt, regained all HER feathers, and is laying well again.  She's still very close to her mother, but she's friendlier with me and with some of the other hens in the coop.  She's a lovely big, black hen.
Sometimes, with adoptions, there are reasons for wanting to know parentage.  Perhaps there's a medical question, or perhaps it's just curiosity.  In Jimmy's case—it's my curiosity.  I would really like to know what breed (breeds?) of chicken make up Jimmy's genetic background.
With all of the knowledge in our Chicken Community, I thought if I gave you the clues, you might be able to give me an answer.
So.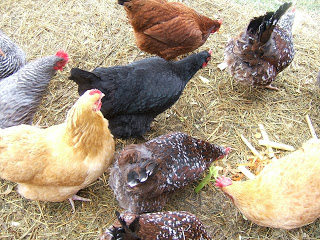 Jimmy with some of her friends (that's her mom just behind her)
Clue #1: Jimmy is a big hen.  She's slightly bigger and heavier than our Buff Orpington hens.
Clue #2: She has a fairly small rose comb.  At least, I think that's a rose comb.
Clue #3: Jimmy has feathery legs.  Not lots of feathers, but a few.
Feathers on Jimmy's baby legs
Closeup of Jimmy's adult feathered leg
Clue #4:  She lays big pink eggs.  I can always tell her eggs by the lovely bloom—and they are definitely the "pinkest" brown eggs in the nest boxes.
That's Jimmy's pink egg right in front–the biggest one, too!
Can you help satisfy my curiosity?  Can you use these clues to give me an idea of Jimmy's heritage?
Related Products